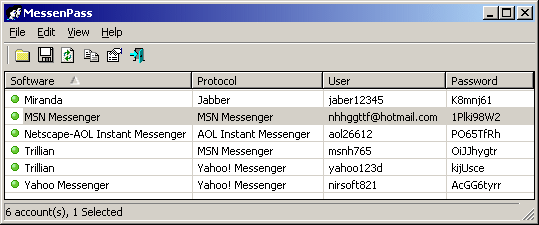 Introducing MessenPass, this software enable you to recover the passwords that your forgotten by saved in your Instant messager. MessenPass is a password recovery tool that reveals the passwords of the following instant messenger applications:
* MSN Messenger
* Windows Messenger (In Windows XP)
* Windows Live Messenger (In Windows XP/Vista/7)
* Yahoo Messenger (Versions 5.x and 6.x)
* Google Talk
* ICQ Lite 4.x/5.x/2003
* AOL Instant Messenger v4.6 or below, AIM 6.x, and AIM Pro.
* Trillian
* Trillian Astra
* Miranda
* GAIM/Pidgin
* MySpace IM
* PaltalkScene
* Digsby
MessenPass can only be used to recover the passwords for the current logged-on user on your local computer, and it only works if you chose the remember your password in one of the above programs. You cannot use this utility for grabbing the passwords of other users.
This software is quite handy and able to be use to hack people account. Im not going to teach you how to do that. Just use your imagination.
Known Problems
False Alert Problems: Some Antivirus programs detect MessenPass utility as infected with Trojan/Virus. Click here to read more about false alerts in Antivirus programs
Download MessenPass in zip file (mspass.zip)
Download self-install executable for installing MessenPass with uninstall support
Enjoy! Please click on my ads as token of appreciation. Thank you.